At Australian Motor Homes & Caravans we pride ourselves on the level of service we provide to our customers. We love to get feedback about our services so
below are some testimonials from our feedback surveys and direct email.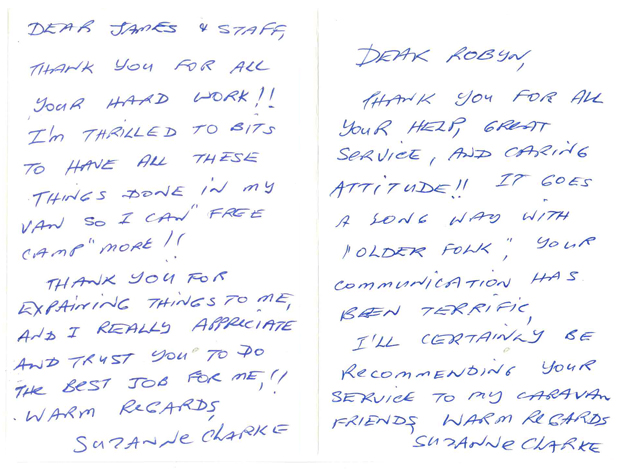 ---
From: Andrew…
Sent: Wednesday, 5 August 2020 6:39 PM
Subject: RE: motorhome – Esperance Premium
Bert,
Firstly, many thanks, I received the proceeds as cleared funds in my account this afternoon, together with notification of the transfer.
Finally, I hope to hear that you have managed to undertake your motorbike trek through the Himilayas before you become too frail to control the bike. Stay safe, keep well and enjoy life, however challenging it may be.
Warmest regards
Andrew
---
From:
Margaret
Sent:
Friday, 13 March 2020 1:13 PM
To:
chris@ausmhc.com.au
Subject:
Review as promised.Hello Chris,
it was great to talk to you again.
My husband & I brought a Iveco  Avida Esperance Motorhome from Aust. MHC last March. We have been impressed with all staff involved in this purchase & getting us on the road.
Firstly, owner Ron, was honest & approachable. He was astute in assessing our needs so that we did not purchase unnecessary "extras" but we needed to move fast to keep up with his energies!!! as he 'zipped' around keeping all activities closely supervised.
There was a lot to "take in" & Wayne's expertise in debriefing us was invaluable. His commentary & tips were practical & useful from his first hand experiences.
Chris offered advise that achieved the best results for our interior decor & has continued to offer support on other matters.
Sue, Reva & Michelle are the friendly office staff, who were always cordial & helpful.
We had our first service & can only praise Anthony, the Service Manager & his staff. Anthony is genuinely interested in getting the best outcome for us & personally gets involved.
Jamie, the workshop supervisor, is Anthony's right hand man. His dedication & commitment were to be commended. His efforts & technical expertise were greatly appreciated. Jamie even delayed attending a family function that evening until he was satisfied with all aspects of our service.
We would not hesitate in recommending Australian Motor Homes & Caravans. The team was successful in providing us with a supportive trouble free experience.
Kind Regards,
Margie & Ted
---
After unsuccessful months of trying to sell our van online, we asked Australian Motor Homes and Caravans to take it on consignment just four weeks ago. During the months we were advertising the van on two popular sites, we were subject to at least two scammers, one a scary near-miss, and three prospective buyers. We suspect one of the buyers, a smooth talker, was also a scammer. And another of them seemed to be affected by either alcohol or other drugs and craved our company and just wanted to make us happy! Not a happy experience for us at all – and we had sold items online before.
Because the van is a quality buy, AUSMHC took it on for us. With one of us unwell, they were good enough to arrange pick up from our home – nearly two hour's drive from their premises.
However, neither AUSMHC nor we had any idea that the COVID-19 virus would cause such economic mayhem especially on top of the Australian Summer bushfire crises. Barely two days ago, we gloomily anticipated the van would be returned to us unsold at the end of the consignment period. Then the magic phone call from Ron Warden came and the van was sold just yesterday! Yes, it was sold for a little less than we'd hoped for but it was a respectable price all things considered.
AUSMHC dealings with us at all times were respectful, helpful and marked by their business acumen and integrity: they had taken on a commitment and, possibly at a lower price than they themselves anticipated, carried through the deal for us. At the same time, Ron was very direct and spot on with his advice. The sale was done & dusted very fast, including monies deposited in our account on the same day. The buyer has made an excellent purchase and we've sold our van at an acceptable price.
If we ever buy another van or a motorhome, AUSMHC will be topmost on our radar to help us out. This is written gratefully, with special mention to Ron and Bert, and to the courteous gentleman who picked up the van four weeks ago.
Thank you from Christine and Christopher
---
From: Mark & Karen
Sent: Friday, 6 December 2019 7:33 AM
To: ron@ausmhc.com.au
Cc: service@ausmhc.com.au
Subject: We are delighted with the Motor Home that you sold to us and the after sales service and care we receive
Hello Ron,
We couldn't be happier with the motor home that you, rightly, recommended would be great for our needs – a Sunliner Habitat 1 and the after sales service and care we receive from Anthony, Kristy, Craig, Jamie, Mark and everyone in the Service Department.
Australian Motor Homes carries a huge range of motorhomes and RV vehicles so it can be daunting for a purchaser to work their way through what they are looking for and what products will best match their needs. You personally took the time to listen to what we wanted to do with our motorhome and correctly guided us to the Sunliner Habitat 1.  It took over 6 months for Sunliner to receive the truck cab / chassis and then build our motor home however looking back now the wait was worth it.
Since then we have returned to Australian Motors from time to time for scheduled services, for a couple of little enhancement jobs and for some warranty repairs. All have been dealt with in a friendly, professional and competent way by everyone we have contact with as well as those who work behind the scenes and do the jobs to a high standard.
We frequently tell people that finding the right dealer is, at least, as important as finding the right motor home and have recommended people to shop with Australian Motors because of the quality of our sales and service experiences over the last, nearly, two years.
Best wishes to you and the Australian Motor Homes team for a very Merry Christmas and Happy New Year.
Kind regards,
Karen and Mark
---
From: Steve
Date: 21 October 2019 at 8:40:00 pm AEDT
To: Avida RV Customer Relations
Subject: Avida Topaz Caravan
Hi Frank
I had my Avida Topaz repaired last week (warranty repairs) by Australian Motor Homes at Bennet Green and also serviced at the same time. I was so happy with the friendly staff and that they went out of their way for us, whether it was relaxing in the customer lounge or explaining the process of repairs for us.
I would like to especially thank Kristy and also Jamie in the Service/ Repair section of Australian Motor Homes for their expert knowledge and helpfulness.
We are extremely happy with our van and to know that the staff do care about their customers and also after sales service is very satisfying.
Can you please pass on our appreciation please.
Kind Regards
Steve & Pauline
---
Condor Ultimate Family
Hi Paul,
So excited to have picked up our Condor 21ft Ultimate Family bunk van today.  Can't wait to go away on the October long weekend.
Thank you to yourself , Casey and the team at Australian Motor Homes and Caravans. From start to handover you guys were amazing.
Many memories to be made!Thank you,
Paul and Nicole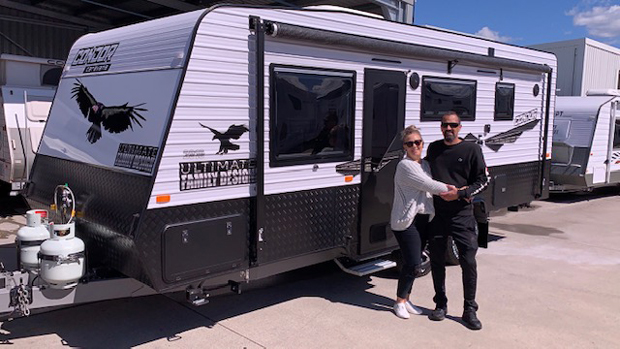 ---

From: Anthony

Sent: Monday, 19 August 2019 8:55 AM

To: service@ausmhc.com.au

Subject: Thank you
Hi Anthony & Team,
Thank you for the awesome service and additional extras you completed on our Longreach. Your attention to detail and great customer service experience has to be the best we have ever experienced. We are sending you a delivery today for your your next staff get together.
Kind Regards
Anthony & Mark
---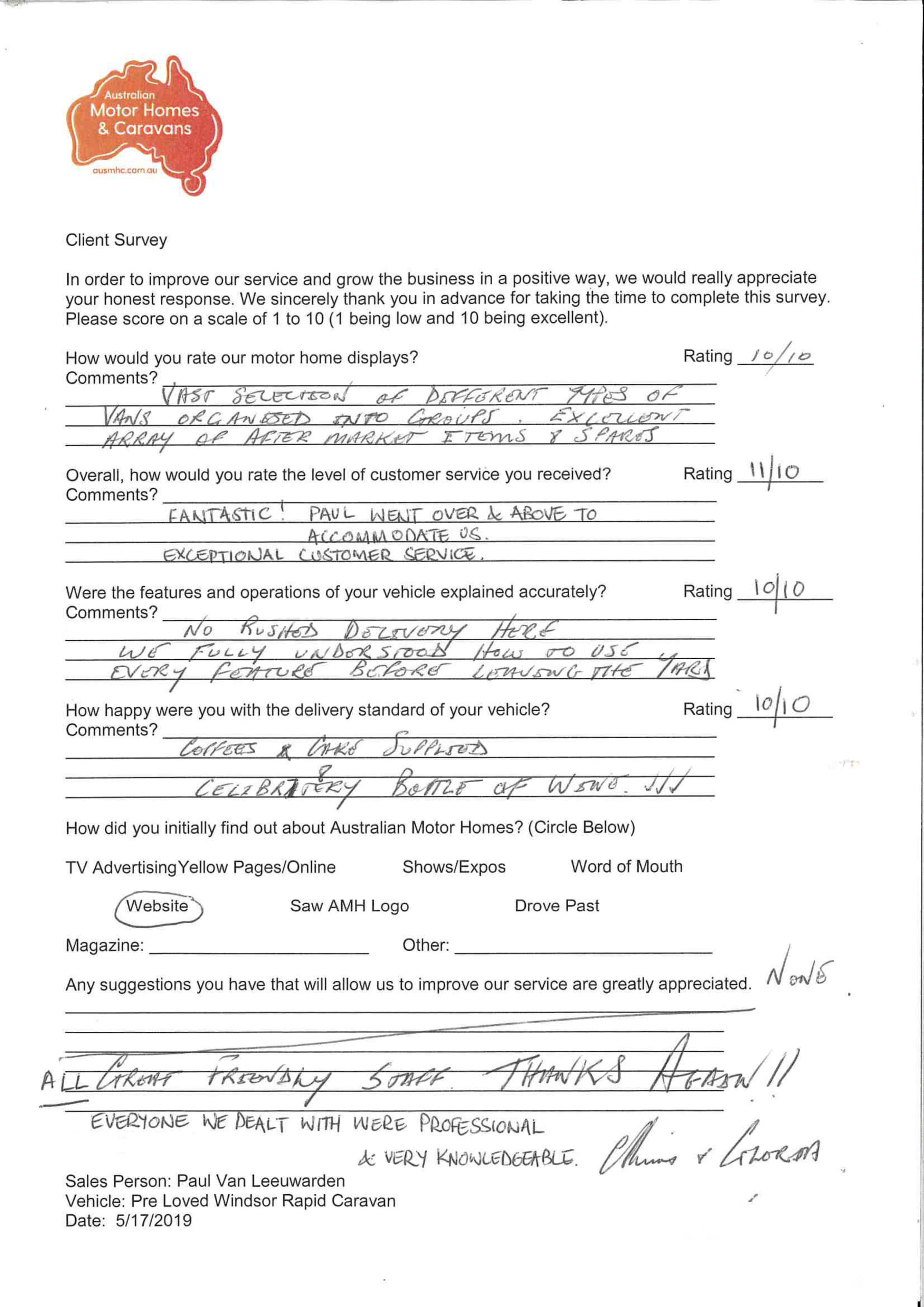 ---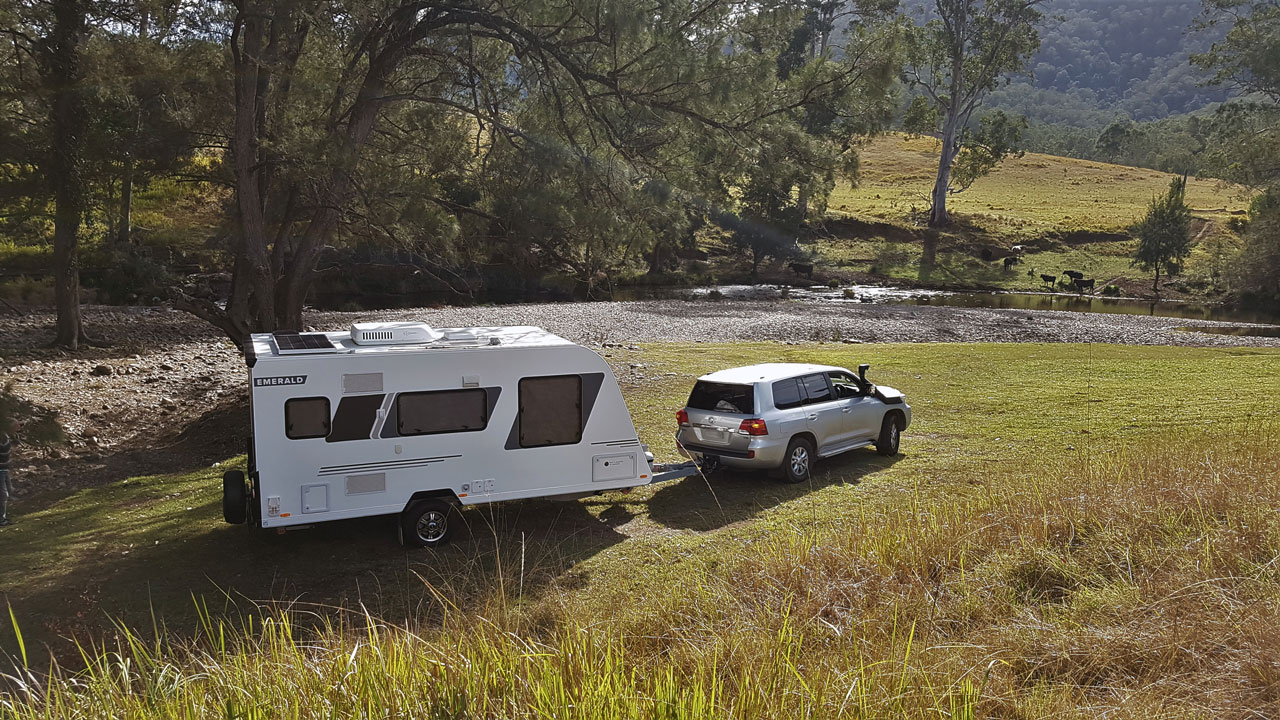 Loving our new Avida Emerald…
We recently picked up our pre-owned Avida Emerald from the team at Bennetts Green, and took her on her inaugural run to the bush.  We are absolutely delighted with this little van – tows well, is extremely comfortable to sleep in and has all the necessary bells and whistles to make caravan holidaying a very pleasant experience. 
Our first run was to a remote camping site at Mount Seaview Resort, west of Wauchope.  The late afternoon drive up there was easy, and we had no problems negotiating the final dirt road leading to the back of the property, and managed to get set up on our riverbank site just before dark.  No rain for ages, so thought we'd be safe enough down there beside the headwaters of the Hastings River!
In the morning the beauty of the place was revealed – crystal clear waters flowing across beautiful rocky banks, cattle grazing nearby, birds chirping, blue hills in the distance, and logs available for a comforting camp fire.  Thanks to our son for finding this place, and for sharing it with us for his birthday!

Judy & Graham

---

Sent: Thursday, 11 July 2019 6:25 PM
To: george@ausmhc.com.au
Subject: Thanks from Hugh and Lisa
Hi George,
We wanted to drop you a line to say thank you for organising everything with the van. This morning went well and we got the van home in some pretty windy conditions.
We are very happy with our purchase and would like to thank you for your professional approach throughout the process.
Kind regards Hugh and Lisa
---
Chris from Facebook (16/04/2019):
As a current Condor owner I can attest to the build quality and value for money. 

They are an awesome van.

After sales service is absolutely incredible!

---
—–Original Message—–
From: Mary
Sent: Thursday, 7 March 2019 4:05 PM
To: 'Gary Milne' <gary@ausmhc.com.au>
Subject: Many thanks
Hi Gary,
This is a long over-due thank-you for your help in getting my brakes fixed last Friday. I am sure Rockingham Fiat would not have come to my assistance without your help.
The Leura is now running beautifully, it is like driving a car through the city. I am convinced the trouble started on the SA peninsula at 3,000kms when the lights first showed up. Anyway the problem is fixed now and it is a dream to drive.
I have enclosed a photo of my friend, her cat and me about to embark on our trip home across the Nullarbor – my friend is the one who talked me into the Avida. We free-camped all the way across and always felt safe in our trucks so if you have any enquiries from single 68 year olds you can tell them the Leura is brilliant. I took it to golf yesterday and I think I have one lady seriously interested, they all loved it!
Took my husband to Perth with me when we had the brakes done and he was suitably impressed as well so I may even get him on the road one day.
Thanks again for all your help, really since November.
With best wishes,
Mary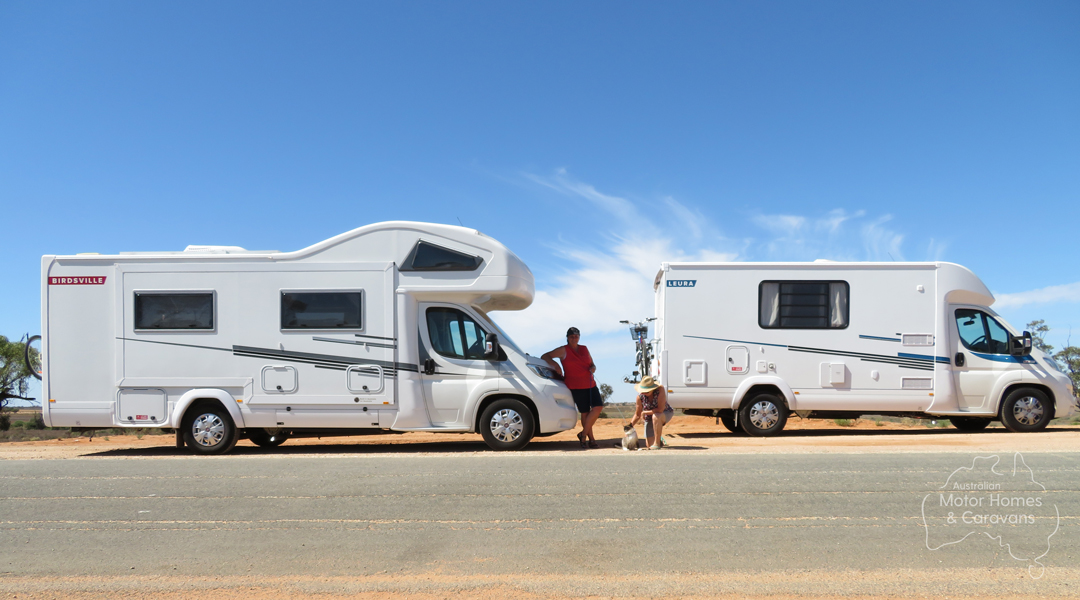 ---
—–Original Message—–
From: Rhonwyn Bell

Sent: Monday, 17 December 2018 9:30 AM
To: ron@ausmhc.com.au
Subject: Thank YouHi Ron

Just a quick email to thank you for listening to my concerns regarding the repair to our slide room this morning. You have put my mind at rest.

We are so greatful  to you and the team at Aus. Motor Homes for always supporting and assisting us whenever we have needed advice whilst on the road. Your after sales and customer service is outstanding. 
Merry Christmas and Happy New Year to all. We look forward to catching up with you all in 2019. 
Regards Rhonwyn And Kerrie 
Sent from my iPad

---
—–Original Message—–
From: Wendy
Sent: Thursday, 4 October 2018 2:16 PM
To: anthony@ausmhc.com.au
Subject: Thank you
Hi Anthony,
We just wanted to say thank-you again for your help and support over the last couple of days when we were on the road on the north coast and having trouble with our slide-out.
First, your great 'over the phone' assistance was greatly appreciated. You asked great questions to determine the type of slide out and then further researched our particular motorhome to ensure you gave us the correct information. You ability to diagnose the problem over the phone and give us advice on how to rectify the issue was terrific. You were clear and calm and patient and your descriptions made it easy for us to follow what was required to identify the issue.
Based on your assessment we decided it was best to bring it into Australian Motorhomes to rectify the problem as we were concerned we may not be able to retract the slide-out and be stuck on the road. Again, Anthony you were fantastic in fixing the problem and explaining to us the operation of the slide-out. Your helpful manner, expertise and the care you took of our vehicle was very much appreciated.
We could tell how busy you and your team were and we wanted to thank-you again for helping us out of a potentially difficult situation with such great service and good grace. You made it seem like, 'nothing was a problem". We really appreciate it!.
We will certainly share with our friends the excellent service we received from you.
Cheers
Mark and Wendy
To:
"'Ron Warden – Avida Newcastle'" <
ron@ausmhc.com.au
>

Subject:
Service – Esperance PremiumHi Ron
Yesterday, I picked up my Esperance Premium following its fifth annual service at AMH since we purchased it from you in May 2013.
I just thought you might like to know how happy we have been with the overall friendly and professional we have received from all members the Service Department over the years.  I must make special mention of the efforts  of your Service Manager, Anthony McCosker.  From the initial handover in May 2013, through all of the annual services, Anthony has always made us feel that we were his most important customer.
Whilst not inexpensive, these annual services have ensured tens of thousands of kilometres of trouble free travel, through all mainland states except WA.  On the few occasions when we needed some minor part sent to a remote part of Australia, nothing has ever been a problem for the Service and Parts Departments.  They are a real asset to your organisation.
On another note, we have never regretted your persuading us to buy the A class Esperance Premium over the two C Class models we contemplating trading up to, back in May 2013.  I know that our Premium was one of the first of that model and we were very pleased to see that the few, minor issues (window rail blocking sweet spot in driving mirrors, also layout of overhead bathroom cabinets) with this model,  were quickly overcome in later versions of the Premium.
As you suggested, the driving position offers the most panoramic view imaginable.  When parked with the slideout open, we have never felt claustrophobic, even when rained in for several days.  The Premium certainly provides a world of difference when compared to our earlier C Class Motorhome.  I know that there are not many Premiums around, but would certainly recommend one to any prospective customers, should you have a Premium in your yard.
Thanks once again for ensuring we enjoy what will be our 15th year of Motorhome ownership.
Regards
Andrew
---
Re: Customer Satisfaction Survey
Hi Mark
Thank you for the opportunity to express how impressed I am with your company's response to my query.
Just as important,  I am impressed with the 'genuine tone' of correspondence.
I was surprised at how prompt John was. My query was sent in the evening and John replied first thing next morning.
I have since looked at the links John mentioned. Customer comments have certainly influenced my decision to call in to your dealership July/August 2018 on my trip interstate, driving from SA to visit family NSW & QLD.
I look forward to meeting John at that time. And am very keen to see the Rialta Campervan as I plan to travel this magnificent country of ours in the future, free camping as much as possible.
Warmest regards
Christine
———-
Dear Christine,
You submitted an enquiry with us on the 13th of November and in an effort to improve our services we would appreciate it if you took a few of minutes of your time to give us your feedback regarding your experience with Australian Motor Homes & Caravans.
1. How quickly did John get in contact with you after you submitted your enquiry?
2. Are you happy with the information that John supplied regarding your enquiry?
3. What suggestions do you have that could help us improve our services?
Thank you in advance and we look forward to hearing from you.
Regards,
Mark Howells
---
Re: Sunliner Switch 411
From: ryszard
Subject: Sunliner Switch 411
Hi, first of all I would like to say thanks to you and your technician for a
work he done to my motorhome (glueing behind cabin) on 27 October it was
fantastic job I am really appreciate, well done you are most trusted
people, thanks again Ryszard
Sent from my iPad
Re: Habitat Solar Repairs
Subject: Suckling – Habitat
Hello,
We wish to extend our gratitude to Ben your solar specialist after he went out of his way to squeeze us in to his busy schedule only a day after I rang and discussed with him the issue we had with our Solar on the Sunliner Habitat.
Together, with Jodie they have been able to resolve the issue, of all things, a fuse, in a timeframe that has meant we are able to continue with our planned holiday.  To Ben and Jodie, your customer service was exceptional and warranted a special "thank you" from us both.
Kind Regards
Rex & Alison
Sent from Mail for Windows 10
---
Motorhome Purchase
My name is Trevor and I have just had the most forgettable and memorable experiences of my life. I purchased a used motorhome from Australian Motor Homes in Bennetts Green NSW to live in whilst I moved to Queensland from NSW, this was also giving me the opportunity to discover the rest of Australia that I had never seen and I was ecstatic as to what lay ahead of me.
I had been on a couple of test drives in my VW Tavlor Euro Tourer and was rapt, then came the day to pick it up…great, everything going well until I was about 1km from home when turning a corner I put my foot down and nothing happened…oh sh*t horror… the thing would only just crawl along, but I made it home at least. May I point out at that the motorhome was sold AS IS… NO WARRANTY given, due to it being sold on behalf of the original owner by AMH's.
How bad I felt at this time is beyond comprehension and certainly not printable, but I rang AMH'S and told them the story, all the while not expecting much response…how wrong I was. They calmly just said this is not acceptable and directed me to take it to their auto electrician to find out what's wrong…well I will not go on forever telling you everything that ensued with the very expensive faults that were uncovered with the motorhome but Ron and his team at AMH's took care of everything and I am now looking forward to my trip across the Nullarbor in the coming months.
I cannot express my gratitude to Ron and his staff at Australian Motor Homes enough for the way they handled this situation and their professionalism in this field is beyond doubt and I recommend them to anyone who requires first class treatment in every aspect of the Motorhome and Caravan business.
Many, many thanks,
Trevor, Valentine, NSW.
---
Re: Caravan Purchase
Hi Ron and all your team members
My wife and I thought we needed to thank the team at Australian Motorhomes for a 1st rate buying experience.
We purchased our van a little over 12 months ago and have just had a couple of minor warranty issues addressed.
Your company has been a pleasure to deal with.
A no pressure sales experience
A very in-depth handover process
A prompt and courteous home delivery of our van
Great after sales service
Always pleasant reception staff
Phone calls to your dealership always get returned
Caring and skilled workshop manager and staff
We feel our dealings with your staff were well above what people have come to expect as the norm, a special thanks needs to be made of Barry, he skilfully managed suitable resolutions to any questions we presented.
Our latest visit to your dealership for the completion of these minor warranty matters had all our concerns addressed and a couple of unknown problems ( to us) also rectified.
We are so happy that we chose to buy our new van from your Dealership
A happy Christmas to you and all you staff,
regards
Ron and Leanne
---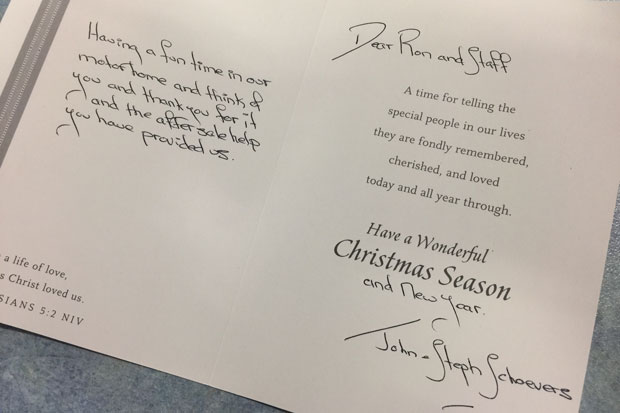 ---
Re: Customer Survey
How would you rate our motorhome displays? – Well laid out, not cramped, easy to walk around, clean and tidy.
Overall, how would you rate the level of customer service you received? – No complaints. Service before and after purchase has been friendly, accurate and prompt, both from sales and maintenance staff.
Were the features and operations of your vehicle explained accurately? – The handover was through and accurate.
How happy were you with the delivery standard of your vehicle? – The vehicle was detailed to a high standard.
Salesperson: John Westley
Brian
---
Re: Customer Survey
Overall, how would you rate the level of customer service you received? – Gary went above and beyond what we expected.
Were the features and operations of your vehicle explained accurately? – Friendly and helpful explanations.
How happy were you with the delivery standard of your vehicle? – Clean and tidy.
Salesperson: Gary Milne
Anne
---
Re: Customer Survey
Overall, how would you rate the level of customer service you received? – From the sales person to management we received pleasant courtesy and an answer to all questions that were asked.
Were the features and operations of your vehicle explained accurately? – Going through all that had been done to the vehicle and fully explaining the workings of our motorhome was excellent.
Salesperson: Denise Schow
Ron & Vera
---
Re: Customer Survey
How would you rate our motorhome displays? – Excellent.
Overall, how would you rate the level of customer service you received? – All staff were very helpful.
Were the features and operations of your vehicle explained accurately? – Yes, we had a small problem with the water fill lock. A quick call to Anthony and it was solved.
How happy were you with the delivery standard of your vehicle? – Very good. Solar panels were malfunctioning and again it was solved with a phone call to Geoff.
Salesperson: Bert Van Leeuwarden
Clare & Jeff
---
Re: The Wanderer – February 2016 Edition
We recently purchased a new 'first' motorhome, an Avida Leura, from Australian Motor Homes, at Bennetts Green, NSW. The experience was amazing. The staff, in particular Denise, were unbelievably attentive, something that has continued since, both in face to face contact and on the phone.  As for the vehicle: again, it is amazing. We are very 'happy campers' as the saying goes. We will continue to deal with Australian Motor Homes both for servicing and if and when we upgrade.
John and Suzanne
---
Re: Customer Satisfaction Survey
Denise was fantastic.
This was the second enquiry made to you and Denise handled both with the highest level of professionalism.
Not only did she advise well, she sold us the bloody thing!! My wife is a sales and marketing professional of many years standing; she gave Denise an 'A' pass with honours; great sales technique and exemplary communication skills; hassle free.
We now look forward to hopefully getting delivery in October and to receiving/ drinking that nice bottle of wine she promised us.
Best regards,
John
I would like to say a big thank you to Anthony & the service crew that carried out a 1st class service & window repair on my Free Spirit last Monday.
Regards,
Keith
Umina Beach
---
Re: Recent Service RV Longreach
Hi Ron,
I just wanted to commend young your staff, Barry and crew for the excellent service I received earlier this week. Given that I did not purchase
the vehicle from your firm I was pleasantly surprised and impressed at the welcoming and efficient attitude your staff displayed to me.
I will be certainly recommending your firm to as many people during my travels and I will be booking my RV scheduled services with your firm in
the future.
Once again please pass on my congratulations to your staff who I believe went beyond the contract. Well done to all.
Kind Regards
Bob Tranter
---
Motorhome displays: Display is very good considering the size of the vehicles. The layout is good and always changing
– 10
Customer Service: EXCELLENT! All staff were polite and most of all "happy" – 10++
Operations of the vehicle explained accurately: The 4.5 hour walk through was delivered in an excellent way and manner
– 10++
Delivery Standard of your vehicle: At all times in the weeks leading up to purchase delivery, warranty & servicing
and spare parts & accessories have been a joy. A very happy experience – 10++
Comments/Improvements: We have nothing at all jumping to mind. Just keep doing what you are doing. WORKS GREAT
William Johnson, Pre Loved 2012 Winnebago Longreach,
Salesperson: Bert van Leeuwarden
---
Re: Motorhome Service
To whom it may concern,
We would like to thank the people that work at Australian Motorhomes, starting with Jodie who booked us in with a smile. We'd like to thank
Anthony and his workshop boys, who did a satisfactory job, quick and reliable and followed our requests with patience.
Ron, Bert and the rest of the staff – who ever works there walks around with a friendly face and one feels confident and happy to come
back. Keep up your standards and reputation. We will mention it to others.
Viktor & Helga Rupprecht
---
Motorhome displays: Excellent. Good display, makes it easy to know what you want.
Customer Service: Very good. Prompt. No problems with any part of the pre & post sales.
Operations of the vehicle explained accurately: Yes. I will need to return though as I have a few questions about a switch
(unknown use?) and have been told that I have a phone antenna by a friend. This wasn't explained to me.
Delivery Standard of your vehicle: Very clean and well presented. I love my motorhome. Was great to be able to pick it
up close to my home!
Comments/Improvements: It was very full on having everything explained to you on delivery in half a day. Maybe apart from
the instruction brochures, a small portfolio of what you are told on that day could be given to you i.e water capacity, solar settings
etc.
Tracey Baas, Pre Loved Swagman Motorhome.
Salesperson: Michael Gander
---
Hi Ron and the team,
I'm sitting here today sipping a cuppa in your showroom and would like to express from me personally how grateful we are at HPCA
(Hunter Prostate Cancer Alliance) for the exceptional service you and your team provide to us.
It's always a pleasure to talk to you and it seems never a problem to help us out; being from just info over the phone about our
Winnie to service and repairs.
HPCA have confidence in our association and for me as I am usually the person doing the calling, asking and arranging such services
with AMH is proud to say you guys are second to none!
Thank you from me, Jo Heard (and I'm sure the team at HPCA)
---
Motorhome displays: Very good
Customer Service: Excellent. Helpful at all times. Keep it up!
Operations of the vehicle explained accurately: Operations of the vehicle was explained very well. I've bought
a few RV vehicles in the past and this is the first time that someone has taken the time out to explain the operations of the
vehicle. Very good.
Delivery Standard of your vehicle: Again, Excellent! Everything was nice and clean.
Comments/Improvements: Every detail I found was excellent. Hope it continues to stay that way.
Kevin Tattersall, Pre-loved KEA Freedom.
Salesperson: Dean Pearson
---
Re: Service
We would like to compliment Anthony McCosker.
He would be the best service manager we have ever encountered in any service history. His manner never alters and if he is under
any stress it is certainly not visible to the customer.
We have had several dealings with Anthony over the past few years and his knowledge and the way he explains things to the customer
is spot on.
We have had cause to ring Anthony whilst away on a trip and he immediately has a solution to our concerns and put our minds at
ease.
Be it face to face or on the phone, he is both a credit to himself and to your company
Yours sincerely.
Gordon & Bev Condon.
---
Motorhome displays: Well laid out. Easy entry.
Customer Service: Having known Bert and Ron for some years it was an easy decision when we finally purchased.
A full 10 points to Elaine and Anthony for their excellent assistance and courteous attention.
Operations of the vehicle explained accurately: Anthony was very good in his delivery and explanation. Very patient.
An extremely good staff member.
Delivery Standard of your vehicle: Neat, clean, tidy.
Comments/Improvements: You have good people in your employ. They know their job and execute it efficiently. It
was a good experience.
Sam & Noelene Dawe, New Winnebago Esperance.
Salesperson: Ron Warden
---
I would like to congratulate the whole team at Australian Motor Home Bennetts Green from the friendly reception, to the Spare Parts
team and right up to the General Manager Ron, and also his offsider's in Sales and Warranty. They have looked after me whenever
I have needed assistance, and considerably went out of there way to assist me.
I felt like my travelling life had come to an end after my husband passed away as we both loved travelling. I visited the showroom
and spoke to Ron, Bert and Geoff, looking at various vehicles. They put me into the completely right Winnebago, just the right
size and so great to drive. It is a very reliable Unit.
I received a very fair deal and traded in my motor vehicle and caravan, and drove away in my own 20ft Ford Winnebago.
Naturally a woman on her own would come across a few more difficulties and queries than would a man, but thanks to Australian Motor
Homes I have not been left on my own and they really do care and do a wonderful job in trying to assist their customers.
So after some little tours in My Winnebago, I set out for Western Australia and covered 12,500 kms driving myself and with the
company of another lady in her own vehicle.
Once again, I thank Ron and his team at Australian Motor Homes for their friendly assistance and skilled warranty work.
Regards from Jan Clark.
---
Motorhome displays: Extensive, well presented, variety
Customer Service: I was made to feel at home and greatly valued. All questions were answered with the most
patience. Everyone was cheerful and worked well as an interested extension of each other.
Operations of the vehicle explained accurately: Everything was explained extensively. Repetition was no problem if
I needed it.
Delivery Standard of your vehicle: Very relaxed atmosphere for an excited, nervous purchaser.
Comments/Improvements: Personally I'm not sure that there is any need for improvement. If there is, I'm not sure where
it is needed. Pride of product and customer satisfaction is something that is hard to find nowadays and you have both.
Pamela, New Sunliner Holiday.
Salesperson: John Westley
---
Hi guys,
I felt I should share with you this little story. We free camped recently on our current trip and was most surprised that here were
four other motor homes sold by yourselves. We all had a few beers together and it was obvious everyone was happy with their vehicles.
Excellent.
Greg & Noelene.
---
Motorhome displays: Although I did not see all areas, first impressions on entering main display – very impressed!!
and very friendly staff. Could not get over the HUGE area of undercover showrooms.
Customer Service: Can't praise enough of the friendliness & co-operation of Geoff Sneddon he could not have done
more for me – even drove me to the bank – treated like family!!! Thankyou Geoff! – Thankyou Denise – Well Done!
Operations of the vehicle explained accurately: Many thanks to Wayne – He ensured I understood the vehicle and it's
components. Thankyou Wayne.
Delivery Standard of your vehicle: First impression – very Clean! Paint work, more than happy with – Vehicle performs
as well as it looks – Although I have not driven a lengthy distance, I am very impressed!
Comments/Improvements: I don't have any! You run a good ship!
Colin Shrimpton, Pre Loved Hino Rainbow Motorhome.
Salesperson: Denise Schow
---
Hi there,
Would you please add the following to your testimonial records – I see from the website that you have a book, perhaps you would be kind
enough to add this to your book.
We bought a new Avida Esperence in November 2013.
Here are our thoughts on the sales and after sales experience.
The sale was conducted through Michael. He was very knowledgable about the Motorhome range and gave us some great advice on what to buy. We
believe we made the right decision on which model to buy with Michael's advice.
Four months later we couldn't be happier with our purchase. We had to wait a few weeks for the motorhome to arrive at Bennett's Green
and during that time Michael went on leave, but he left us in the very capable hands of Bert who was very friendly and helpful.
We would score the Bennetts Green team 10 out of 10 for the sale process. During and after the sale we were looking for a few bits
and pieces for the new motorhome and we found the girls at Reception Jodie, Sue and Reva very patient and friendly – top marks ladies
!
Handover of the vehicle was conducted by Wayne and took several hours. It was very comprehensive and Wayne made sure we understood each
aspect of the motorhome before moving on. Wayne, in our view is perfect for the job. We have previously had a handover with a
new caravan at a different dealer and Wayne wins hands down.
OK that's usually the easy part sales happen, companies take your money, then if you have any problems you find out what they're really
like. We are delighted to say that the after sales service and advice provided by Anthony and his team has been first class, they
go the extra mile to make sure things are done properly. At least 10 out of 10 for after sales service and advice.
So in summary we've only had the Avida about 4 months, and we just done a few short trips, but we're delighted by our purchase and we thoroughly
recommend Australian Motorhomes.