MEDIA RELEASE FROM AVIDA RV FOR IMMEDIATE RELEASE:
Christmas is always an exciting time at Avida. It is that time of year where we look back on our achievements and plan for a successful year ahead.
Avida have been manufacturing RVs for over 53 years, and are a proud family owned and operated business, employing 250 staff in Western Sydney, New South Wales.
Since 1965 our vision has been to create a vehicle that fulfils our customer's dream lifestyle. This vision remains the same today and it is built on our strong values: WE CARE, WE LISTEN, WE LEARN, WE ACT.
First and foremost, I would like to thank our customers, particularly those who provide us feedback and testimonials. It just reinforces why we come to work every day, and it's the feedback that goes back into developing our brand and the people behind it.
We place great importance on the customer ownership experience. It can certainly be challenging for our Customer Relations team when covering the geographies of countries like Australia and New Zealand. Whilst we are not perfect, our survey results show that our customer satisfaction in 2018 has remained high, with over 90% of our customers reporting they were "very satisfied", along with 90% also stating they "definitely would" recommend an Avida to others.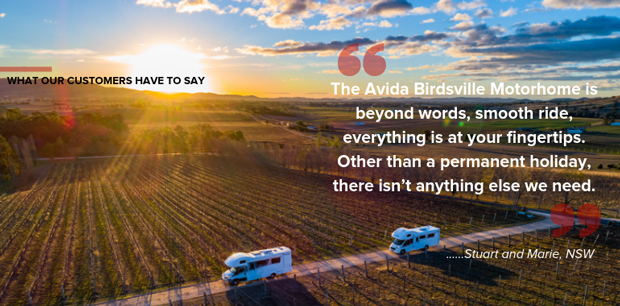 This year has been a busy one at Avida and we have invested in the future and achieved some great things. We have invested in our IT systems to enable a more pleasurable experience for our dealers and customers.
We have also reviewed our warranty program and I am pleased to say that we believe we are still the industry leaders, with a 3 year factory warranty, 5 year structural warranty and 2 years free roadside assistance.
Our core business is manufacturing and with manufacturing in Australia generally disappearing, we remain focused on expansion by developing new technology and investing in the future.
This year we introduced lean manufacturing into the business and we spent millions of dollars on capital expenditure, including new machinery for improved efficiencies. This has all been part of aligning our business with our long-term goals.
We continued our involvement in the Caravan Industry Association of Australia. In fact, Avida joined what is now RVMAP (the Nationally accredited compliance program) in May 1989 making Avida the longest standing member in the industry and the only RV manufacturer with continuous compliance for over 26 years.
At the end of the day though, it's all about our vision "to create a vehicle that fulfils our customer's dream lifestyle" and that means its all about our customers.
Our Avida RV Club is designed to enhance not only Avida customer's travelling lifestyle, but any motorhome or caravan owner, adding to your enjoyment and putting you in touch with other club members.
This year the club hosted events in Echuca, Bundaberg, outback NSW and QLD and ended the year with the annual Christmas parties in Torquay, Currarong, Margaret River, and New Zealand.Avida continue to invest in our dealer network through training and staff development. We were pleased to announce our Motorised Dealer of the Year award at our annual conference in October to Avida Newcastle (Australian Motor Homes & Caravans).
2019 promises to be an exciting and successful year, with an increasing model range with some more products.
END OF MEDIA RELEASE
If you are dreaming of owning your very own Avida someday, or upgrading to another one, why not speak to our team on (02) 4948 0433 or check out the range on our website by clicking here.