MEDIA RELEASE FROM AVIDA RV FOR IMMEDIATE RELEASE:
Better days are coming, and they are called Saturdays and Sundays! Weekend spontaneity is the best type of adventure and no better way to do that than in an Avida Leura. In this compact little beauty, you can travel as much as you can, as far as you can and for as long as you can.
If you are looking for something that has an appreciable roomy but purposefully compact floorplan, whilst also being light weight, shorter in length and modern in design and combines all the luxury, convenience and functionality you need, then look no further than the newly revitalised entry level Avida Leura Motorhome.
Assembled on the reliable Fiat Ducato chassis, teamed with a six-speed auto transmission. The Fiat Ducato is "city-proof". It is sleek and dynamic with a robust character, equipped with all the most advanced control technologies for safety and performance.
| | |
| --- | --- |
| | |
The Avida Leura is a fresh take on an old design, and although it is the smallest in the Avida range, don't let this fool you. It has a long list of standard features and comforts and is incredibly capable. It has enjoyed increasing success since its genesis in 2014, and we anticipate that the new version will be our most popular yet. Its versatility appeals to both the traditional legions of RV retirees and also for the fashion forward, design-conscious millennials as well, not only because of its handsome price tag or the benefit that it can be driven on a standard car licence, but also for its quick and easy setup at the destination of your choice. With a marked difference in height and length, this also means it's much easier to park.
| | |
| --- | --- |
| | |
You can experience the joys of on-road travel but with greater convenience in the Avida Leura. It has the features of a larger motorhome, despite its compact size, with amenities such as a full sized rear ensuite, complete with shower, toilet and a separate vanity basin and a variety of clever storage compartments through-out, including a full-length wardrobe.
The kitchen cabinetry has been designed to function as generously and utilitarian as possible. It is stylish with an efficient workspace that can be used multi-functionally. The new contemporary look and feel incorporates soft close drawers and new modern handles on all cupboards, with the inclusion of a recessed 2 burner gas cooktop with a glass lid for extra bench space, carousel microwave, large AES fridge and a large stainless-steel sink with drainer.
The unconventional roll-down electric bed can be raised to roof height and be out of sight, at the touch of a button. This will allow you to take advantage of the socially-orientated lounge and living space underneath. This feature deliberately maximises the space to provide more surface area for use during the day. At night, a well-rested sleep on a full-sized bed will help you to function optimally, so you can say a big yes to the next day of grand adventures!
The Avida Leura now has an all-neutral look, with layers of different hues for a classy and sophisticated look. Nothing is better than a bright well-lit space that feels more inviting. The large windows contrast with the views and the openness of the landscape to help you feel closely in touch with nature.
Avida's Sales and Marketing Manager Billy Falconer remarked "The Avida Leura may be compact but it sure packs a punch, you will be surprised when you step inside and see the inclusions."
With full length roof guttering around the roof line, sandwich panel insulated walls & roof, under floor protection, a one-piece fibreglass moulded rear wall, and a one-piece fibreglass roof, a wind out awning, and an integrated distribution control panel and energy management system, no compromises have been made.
Mr Falconer said "you can relax in the comfy lounge and catch up on your favourite TV shows on the smart TV."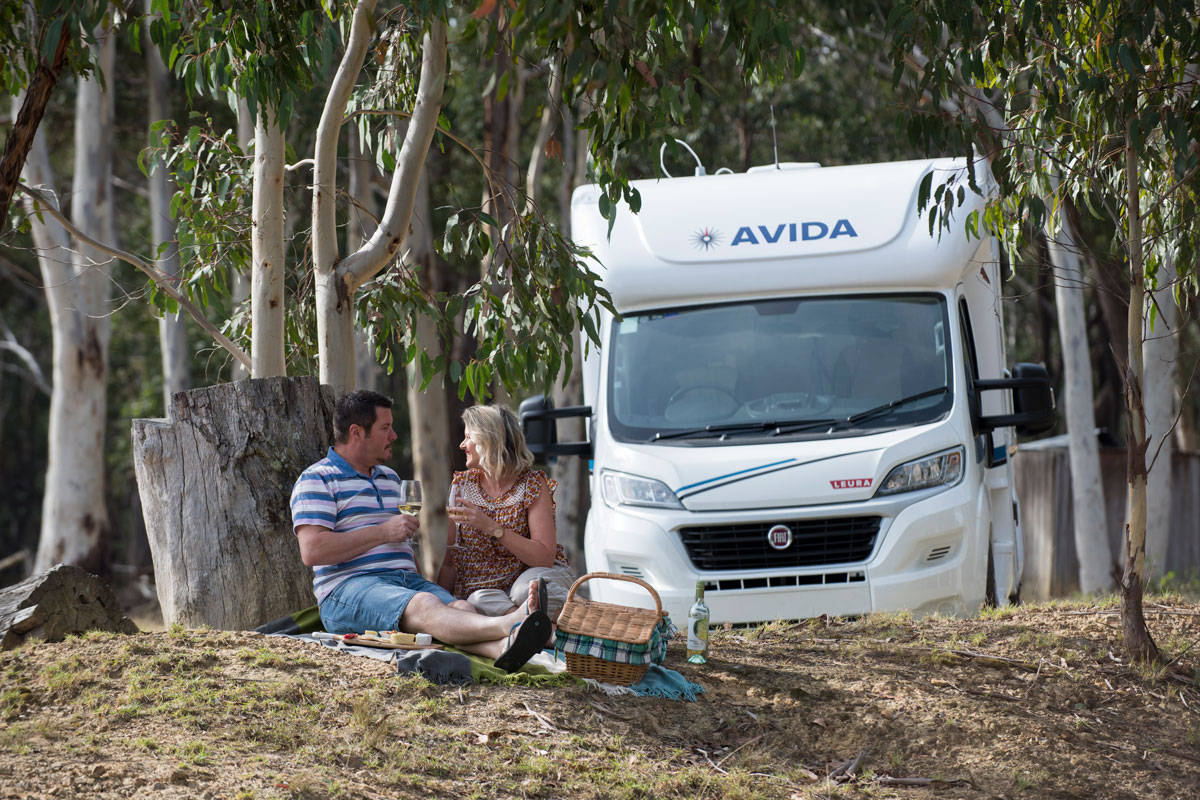 At Avida we have always tried to push the boundaries and strive for continuous innovation. Our pioneering spirit and passion is drawn from over 50 years of experience in the industry and the long-term relationships we've built with our suppliers and our customers.
What is not readily apparent are the hours of engineering and design expertise that is put into all Avida products. Superior construction techniques and premium quality materials are used to create the strongest built motorhome in the industry.
Every new Avida has a very important attribute we simply call "peace of mind" with our market leading 3 year factory backed warranty, 5-year structural guarantee and 2-year emergency roadside assistance. Coupled with our comprehensive nationwide accredited service network, this ensures we are with you all the way.
END OF MEDIA RELEASE
Discover your dreams in the Avida Leura or even take a virtual walkthrough via our 3D tour HERE.
For further information please contact our friendly sales team on (02) 4948 0433 or email us at sales@ausmhc.com.au