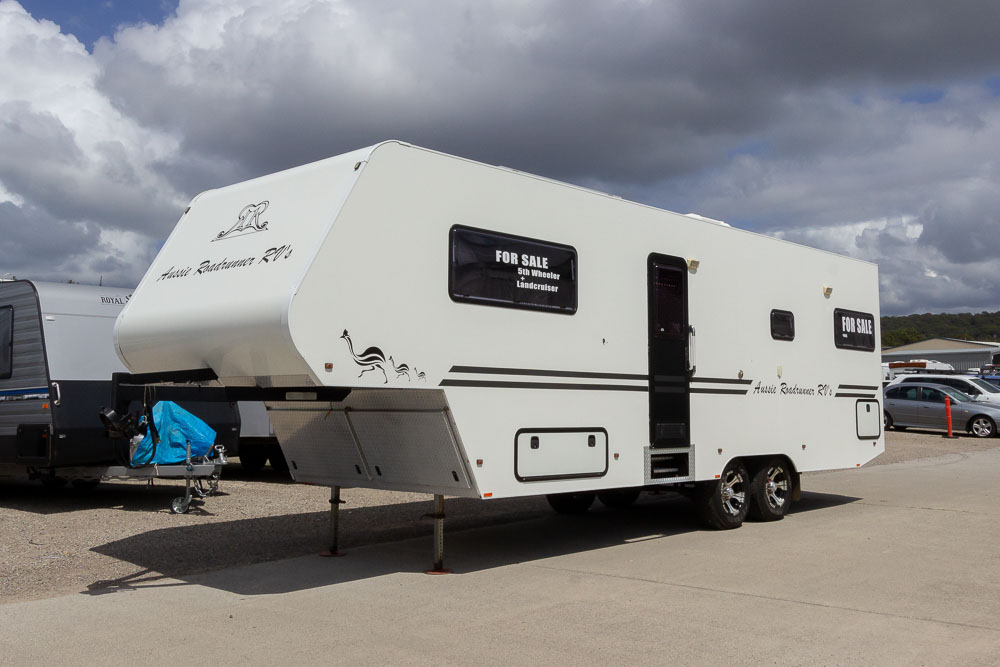 This 5th Wheeler is available on its own for $99,990 or packaged with the listed tow vehicle for $149,990.
Robust, Australian built 5th Wheeler from QLD manufacturer Aussie Roadrunner. Ideal for long term touring this fifth wheeler is completely self sufficient allowing you to spend extended time away from the mainstream camping grounds. This 5th Wheeler has an extensive list of features and you will find everything you need to travel Australia, set up camp, sit, relax and enjoy the view.
The front of the fifth wheeler gives you the bedroom with a relaxing island bed where you will achieve an excellent night sleep. Large wardrobes are also found giving you plenty of room to store all of your clothing while on the road.
Down from the bedroom you are given the ensuite bathroom with the shower as you walk in and the vanity as well as the toilet next to it.
Moving into the rear of Roswal you will find the rest of your home on wheels. One side wall holds a long bench which has a stove equipped with a lid. Ample storage both below and above can also be utilised while a washing machine and microwave are both found within the bench.
The opposing wall holds a second bench, this one holding the sink. Again, ample storage space can be found with this bench also holding a dishwasher.
At the very rear of the 5th wheeler you are given a cafe style dining area. Two lounges can be found, one against each side wall while a dinette is found in the middle.
5th Wheeler Features Include
7 Pin car plug.
Lithium 400a batteries.
2 x water tanks.
2x front boots.
Anderson plug.
Charger.
Tunnel boot.
4x solar panels (800a).
External shower.
2x TV / DVD.
Battery monitor.
Solar regulator.
Water filter.
Water tank gauge.
Air conditioner.
Hot water system.
Inverter.
Mag wheels.
Leather trim.
Hydraulic legs.
Diesel heater.
Security door.
Satellite TV.
Honda EU30is generator on slides (electric start).
80mm Ball.
79 Series Land Cruiser Details:
Year Model: 2014
Fuel Type: V8 Diesel
Odometer: 152,160 km's
Rego: CVY32B
Rego Expiry: December, 2021
Includes tray sides
For more information please contact one of our friendly sales team on (02) 4948 0433 or email us by clicking on the Make Enquiry button.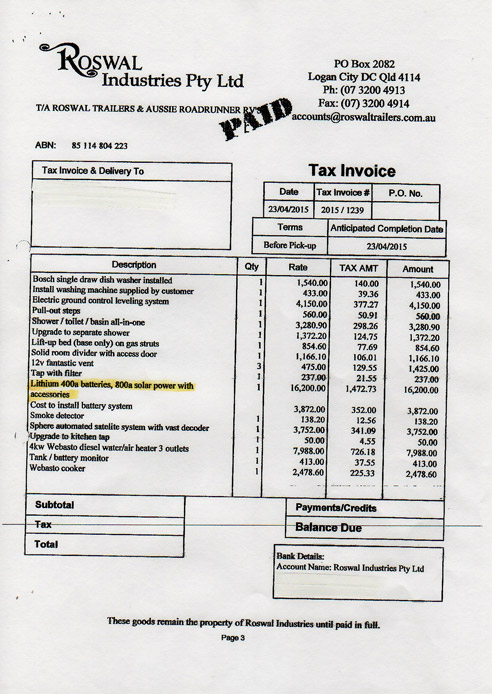 Manufacturer: Roswell Industries
Model: Aussie Roadrunner
Length: 29.04 ft (8.85m)
TARE: 3200 kg
ATM: 4490 kg
Available Tow Vehicle: 79 Series Land Cruiser
Build: 2014
Fuel Type: V8 Diesel
Transmission: 6 Speed Auto
Hitch: 80mm Ball